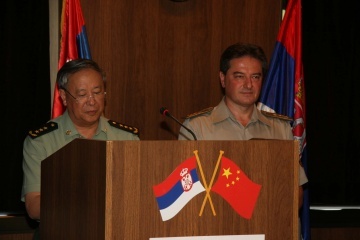 PLA Delegation of the People's Republic of China (PRC) in the visit to Serbia
13. 09. 2008
Belgrade, September 13 - The high-level delegation of the PRC People's Liberation Army led by the Chief of the General Staff General Chen Bingde paid a visit to the Military Medical Academy during its official visit to the Ministry of Defence of the Republic of Serbia. The MMA head Major General Prof. Miodrag Jevtić welcomed the guests stressing traditional friendly connections between Serbian and Chinese people they should cherish and improve through various forms of cooperation in the framework of which military medical cooperation should be an important segment in the future.
General Jevtić briefed the guest from Chine about the organizational structure of the Military Medical Academy, its achievements in the fields of treatment, education and scientific-research work and strategic directions of further development of this institution as well He also pointed out that MMA experts could share with their colleagues from Chine their unique experiences relating to war surgery, handling of mass casualties in major disasters, treatment of polytrauma patients and posttraumatic stress disorders. He added. too, that our experts hoped to have opportunities for training in the PRC prestige military medical institutions in the future and thus, extend their knowledge in various fields of modern and traditional medicine.
The members of the Chinese delegation were taken to a short tour of the MMA Emergency Center and the Clinic for Emergency and Internal Medicine.
At the end of the visit, the MMA head Major General Prof. Miodrag Jevtić presented the guest from Chine with the MMA plaque. The Chief of the General Staff of the PRC People's Liberation Army thanked for the warm reception and, in his address to the most responsible officers, heads and professors of the Military Medical Academy, expressed his great satisfaction for having the opportunity to visit that 'giant of medicine with a long tradition and high reputation in the world'. He also stressed a full readiness for continuation of military medical cooperation between those two countries.
'You have rich tradition, respect it and build your future'- General wrote in the MMA Impressions Book