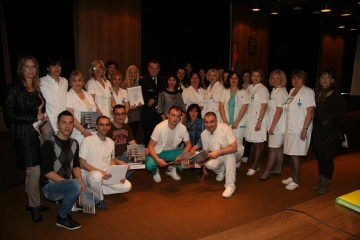 Paramedics Completed Their Training at MMA
11. 04. 2012
The Advanced General and Special Patient Care Training Course tailored for paramedics that was run at Military Medical Academy, over the January 21-March 28, 2012 period, endedby the final meeting headed by Col. Prof. Dr. Predrag Romić, head of the Sector for Education and Scientific Research, and a pedagogue Gordana Pavković, as the most responsible for theproject-related organizational activities.
The main purpose of the course was to reach European standards in this sphere, what was possible to achieve only through continuous education, experience sharing and knowledge acquisition.
Having mastered theoretical and practical knowledge, the attendees were required had to take a final 60 question test, which they passed with great success. They assessed that the program was excellent in terms of chosen topics, its content, organization, the way and methods the program was conducted, and its importance for their work places.
The Paramedic training and education is a long-term mission of the Sector for Education and Scientific Research, for it would considerably improve the patient care at the MMA.