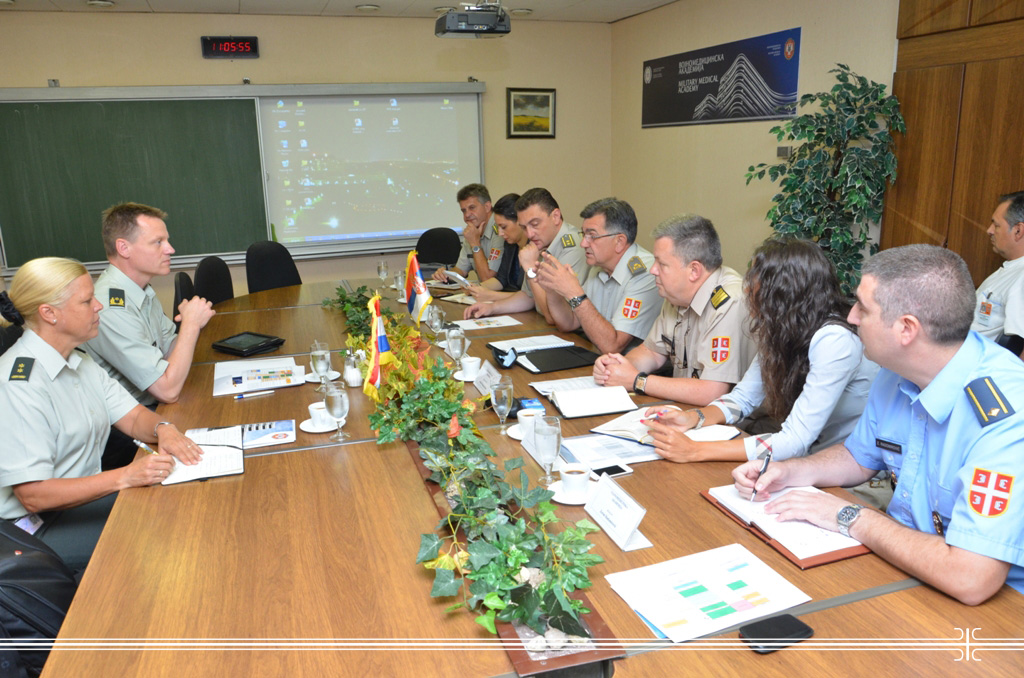 Preparations for Pan European Congress of Military Medicine
11. 07. 2013
Delegation of Royal Netherlands Army, led by Brigadier General Dr. Johan de Graaf visited Military Medical Academy. Its host was Brigadier General Prof. Dr. Marijan Novakovic. Aim of the meeting was development of bilateral cooperation in the field of military healthcare as well as the preparations for 3rd Pan European Congress of Military Medicine scheduled to be held in Belgrade during June 2-6, 2014 and organized by International Committee of Military Medicine – ICMM and Ministry of Defence of the Republic of Serbia. Brigadier General de Graaf is the chairman of the ICMM Pan European Working Group while B.G. Novakovic is its vice-chairman.
Main topics of the Congress, intended to be one of the most significant events in the field of military medical medicine in 2014, will cover the following: War Surgery, Basic Research in Trauma and Sepsis, Update to Preventive and Veterinary Medicine and Mental Health. At the round tables the attendees will have the opportunity to discuss about Military and Medical Education in Europe, Management of CBRN Exposure, and Update to Military Medical Management and Supply. Click here for more information about the Congress
3pemmc.mod.gov.rs
In a short tour at the Military Medical Academy, delegation of Netherlands visited the Center for Hyperbaric Medicine, Clinic for Anesthesiology and Critical Care, Clinic for Plastic Surgery and Burns and Institute of Radiology.