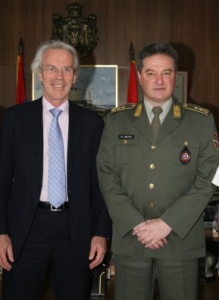 President of European Vascular Surgical Society in the visit to MMA
12. 04. 2010
Belgrade, April 12, 2010 – Prof. Dr. John Wolfe from St. Mary's Royal London Hospital, one of the leading figures in vascular surgery and the president of the European Society of Vascular Surgery was in a several-day working visit to the Military Medical Academy from 06 to 10th April, 2010. However, cooperation between our two institutions started at a period when Major Ivan Marjanović, MD was sent to this prestigious hospital for advanced training purposes last year.
Prof. John Wolfe is the president of the European Board of Vascular Surgery, president of the Royal College of Surgeons and Vascular Surgical Society of Great Britain and Ireland, honorary senior lecturer at the most prestigious schools of medicine in Great Britain, and visiting professor at numerous medical schools worldwide.
The visit to the Military Medical Academy was a great opportunity for Prof. John to raise his awareness of the MMA's capabilities and activities as well as accomplishments and results of our Vascular Surgery, and to actively participate as a member of our expert team in surgical reconstruction of the thoracoabdominal aortic aneurysm firstly performed at MMA.
The guest from Great Britain was offered a heartfelt welcome by the MMA's head, Major
General Prof. Dr. Miodrag Jevtić and his associates. ''We have an enormous experience in the field of all surgical branches, some of them we were forced to acquire under difficult circumstances, but we are proud with everything we have achieved so far, and are willing to share it with the others, but to learn from them as well. Medicine knows nether limits nor secrets! However, our cooperation was initiated through education of our young vascular surgeons in the St. Mary's Hospital. Your stay at the Academy is a proof that you have recognized professional potential of our surgeons which has further to be developed, and our institution recognized as a hospital of European format seeking to reach new heights not only in the field of vascular surgery, but in other branches of medicine, dentistry, pharmacy, education and scientific research', said General Jevtić.
In addition to an in-depth presentation of the Military Medical Academy, Prof. John Wolfe could visit the Clinic for Vascular Surgery, Clinic for Anesthesiology and Intensive Care, Operating Block, The Same Day Surgery Center, Angio-Room and Emergency center and be introduced into the way those units operate.
Together with the MMA's surgical team, Prof. Dr. John Wolfe performed a surgical reapir of thoracoabdominal aortic aneurysm in Mr. M.J., a 71-year-old man. The type IV aneurysm measuring 8,5 cm in diameter was diagnosed. The surgery was successfully performed, and the recovery and follow-up treatment of a patient were normal.
After the intervention, Prof. Wolfe expressed his fascination with the teamwork and multidisciplinary approach of the MMA's doctors involved in the surgical procedure and postoperative monitoring of the patient.
This renowned British surgeon also delivered in the MMA's amphitheater a lecture on 'Challenges in Vascular Surgery: Europe of Today', which drew a significant attention of our experts.
Taking the opportunity of this visit, the expert team of the MMA's Clinic for Vascular Surgery headed by Col. Prof. Dr. Sidor Mišović informed Prof. Wolfe about the most important results this Clinic had achieved, as well as our experiences in medical management of war injuries and our capabilities in the domain of transplant surgery.
During final discussions, Prof. Wolfe once again expressed his satisfaction with our expertise and professionalism of our medical personnel, fantastic conditions and organization of our work, and the hospitality and cordiality of a Serbian physician and man.
Summing up the results of his visit to the Academy, Prof. Dr. John Wolfe said: 'I've had a chance to read about the Military Medical Academy, to listen to your experts reporting at international symposiums, to meet your young colleagues and pass onto them a bit of my experience, but I must admit that you have surpassed my expectations! The MMA is for sure a pride of Serbia',
During his stay in Belgrade, Prof. Dr. Wolfe had a chance to went sight-seeing in the Serbian capital city and visit historical sites that remind of the reach past of our people and country.
The cooperation between the Military Medical Academy and London Hospital would be continued in the future, and even this fall, the MMA will be hosting a working seminar on 'Thoracoabdominal Aortic Aneurysm Repair' to be held under the auspice of European Society of Vascular Surgery.