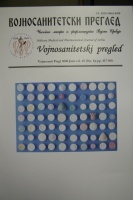 Prestige recognition to the magazine 'Military Medical Review'
18. 06. 2008
Belgrade, June 17 - The magazine 'Military Medical Review' has been indexed in the bibliographic base of the famous Philadelphia Institute of Scientific Information (Science Citation Index Expended-CSIE) which includes about 6000 the most influenced journals in the world. The fact that SCIE follows only those magazines it considers, according to high quality standards, to have a significant impact on the development of a particular field of science reflects the importance of this event.

Out of all scientific magazines currently published in Serbia, only eight of them are included in the SCIE Index System and the 'Military Medical Review' is the only one that publishes papers dealing with clinical medicine issues. However, the magazines indexed in this bibliographic base are recognized in all societies, and papers published in them are given special value throughout the scientific and academic advancement of the author.

Continuing the tradition of 'Military Medical Herald' (1930-1941) 'Military Medical Review' magazine has been continuously published since 1944. Today, it is a monthly magazine covering the fields of medicine, dental medicine and pharmacy and is written in Serbian and English language. Over recent years, there are among the authors of papers published in this magazine, apart from military medical experts, more and more national and international experts from civilian medical and academic institutions.
 
Indexing in this world bibliographic base is considered a great recognition to not only previous editorial staff, editorial board members and publishers of this magazine but to the Serbian Armed Forces Medical Services as well whose experts have made their way through toward the society of prestige figures.