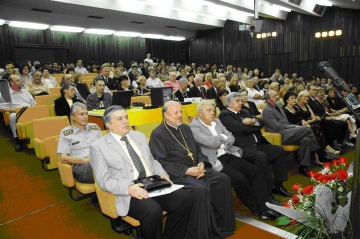 Preventive Medicine Days
25. 09. 2009
Belgrade, September 25 – The traditional 43rd International Scientific Meeting titled ''Preventive Medicine Days'' was held in Nis, on September 22-25, 2009, with participation of more than 120 experts from Serbia, Montenegro, Republic of Srpska, Macedonia, Bulgaria and Hungary.

Colonel Assist. Prof. Dr. Radovan Čekanac , the Head of the MMA's Epidemiology Institute conveyed the event organizers and all participants the compliments of the MMA's Head Major General Prof. Dr. Miodrag Jevtić as well as the satisfaction of the MMA's Management with the cooperation it had with the Medical School and Clinical Center in Nis in the previous period.

''We believe that this cooperation would be much better, particularly in the field of Preventive Medicine, for the problems and challenges we would be facing in this field in the next period would be of common interest, what actual epidemiological situation in both the international and national environment confirms'', stressed Col. Čekanac.

The main topics dealt by the Serbian and other eminent Preventive Medicine experts from the surrounding countries were devoted to the actual microbiological diagnostics of contagious diseases with a special focus on possibilities of improvement of viral infection diagnostics, problems relating to antibiotic resistance, epidemiology of sexually transmissible infections, epidemiological characteristics of mass chronic, non-contagious diseases, environmental protection and nutrition quality of food and its effect on the health Dependence disease prevention and evidence-based medicine were given special attention.

An active part in that event was also taken by the experts from the MMA's Preventive Medicine Sector: Col. Assist. Prof. Dr. Slaviša Đurđević, a specialist in Aviation Medicine, Assist. Prof. Dr. Slavica Rađen, a specialist in Hygiene, and Captain Jovan Mladenović, a specialist in Epidemiology.