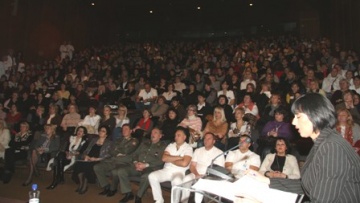 Professional Meeting of Medical Nurses and Technicians in Surgery
13. 12. 2009
Belgrade, December 13, 2008. – Traditional professional December meeting of the Surgical Section of medical nurses and technicians of Serbia was held at the Military Medical Academy, on December 11, 2008. That event brought together around 450 surgery medical nurses and technicians coming from more than 60 healthcare facilities in the Republic of Serbia.
'Good afternoon Serbia! Distinguished colleagues, medical nurses and technicians, welcome to the Military Medical Academy! Today's event represents the whole Serbia in its broadest and the most beautiful sense. It is devoted to joint cooperation in the fields of professional development and experience exchange. That cooperation has obvious practical applications in the sphere of health improvement for the wellbeing of our people and citizens. Because, only health nation is happy nation' said the MMA's head, Major General Prof. Dr. Miodrag Jevtić in his heartfelt address to surgery medical nurses and technicians in the fully occupied amphitheater.
All physicians, surgeons in particular, should be well aware of the fact how important work medical nurses and technicians perform, and how valuable their engagement, commitment and determination on the patients' healthcare are The MMA's Management is proud of the work of medical nurses and provides them full support in their daily practice as well as their professional development, improvement and education. In that sense, I also express my deep contentment with the way our Health Care Department operates!', said General Jevtić.
On behalf of the Health Council of the Republic of Serbia, the participants were addressed by Mrs. Radmila Jazić who said that, for her personally, such events were additional incentive to make the nursing's voice to be heard much more louder within the Council!
She thanked the Military Medical Academy on behalf of all her colleagues for excellent organization of the event.
The head of the MMA's Health Care Department, Verical Milovanović stressed that continuous education and training was very important for medical nurses and technicians, indicating some of the specifics of the nursing practice within the Military Health Service.
The main topics of the event were the issues relating to the fields of maxillofacial surgery, oral surgery and implantology, with the focus on the most common health problems affecting the bones of the face and characteristics of health care for such patients.
Operating room nurses Ljiljana Čupović i Danijela Ivković presented through their fascinating multimedia presentation all challenges and assignments of the MMA's surgical team deployed to the UN peacekeeping mission in Chad (MINURCAT II).