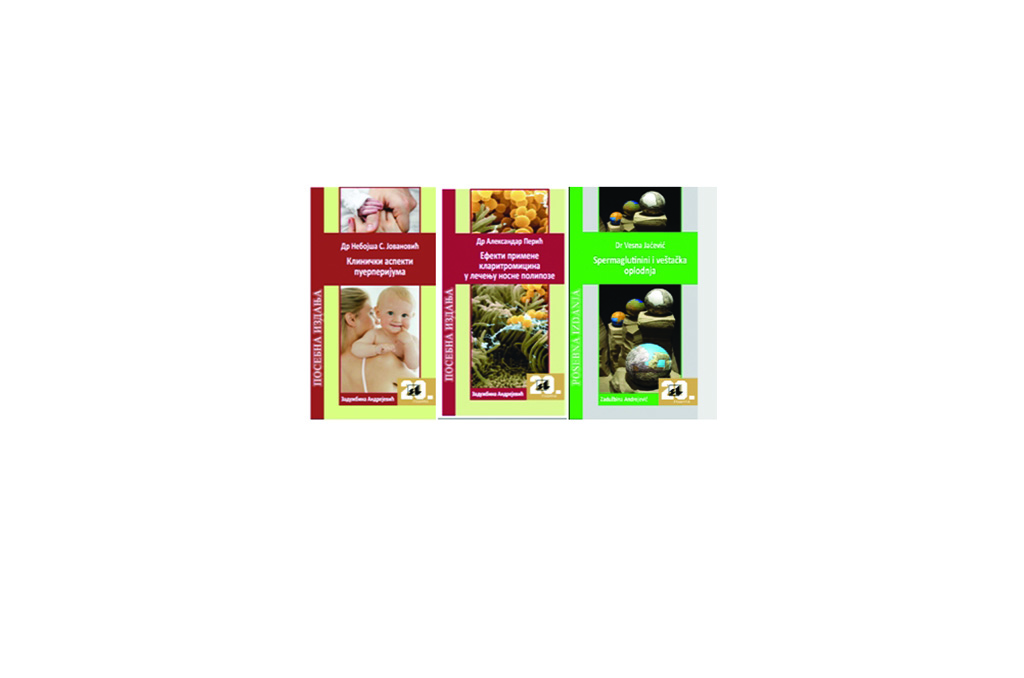 Promotion of Monographs by the MMA Authors
30. 05. 2014
Ilija M. Kolarac Foundation (5, Studentski trg, Belgrade) was the venue on Thursday, May 29th, 2014, of the solemn ceremony celebrating the promotion of "Andrejevic foundation" monograph works, which were previously elected on the 35th call for PhD thesis and special editions and 10th call for master thesis.
Covering the topic of medical sciences, library "Special editions" published the monographs by following Military Medical Academy's authors:
1. Nebojsa Jovanovic, M.D., PhD from the Dispensary of Gynecology, MMA Specialist Outpatient Clinic, with a title "Klinički aspekti puerperijuma" (Clinical Aspects of Puerperium),
2. Aleksandar Peric, M.D., PhD from the MMA Clinic for Otorhinolaryngology, with a title "Efekti primene klaritromicina u lečenju nosne polipoze" (Effects of Clarithromycin Application in the Nasal Polyposis Treatment),
3. Vesna Jacevic, PhD of veterinary, Senior Scientific Associate from the MMA Center for Poison Control, with a title "Spermaglutinini i veštačka oplodnja" (Sperm Agglutination and Artificial Insemination).
On this occasion, the awarded of 36th call for PhD thesis and 11th call for master thesis have been announced. In the field of medical sciences Zdenka Stojanovic's PhD thesis from the MMA Dental Clinic has been selected as the best at 36th call. Until the end of 2014, she will have published in the library "DISSERTATIO" her PhD thesis, defended at the Faculty of Dentistry, University of Belgrade in 2013, carrying the title "Kranio-facijalni model III skeletne klase u doba mešovite denticije" (Cranio-Facial Model of Third Skeletal Class during Mixed Dentition).
"Andrejevic Foundation" was created 20 years ago with the aim of providing help and support to talented and perspective scientists while representing their scientific works. Boasting two libraries, "DISSERTATIO" and "ACADEMIA", it publishes doctoral and master thesis, whilst the library "Special editions" offers the possibility of publishing works of already affirmed experts. Library "SPECIALIS" prints specialist thesis, library "INITIUM" master thesis. Aside from the titled libraries, there are also "INSPIRATIO" treating the topics of extremely valuable scientific works and information related to them as well as "EDUCATIO" covering the papers especially intended for practical use.
So far, the numerous authors from the Military Medical Academy have published their first scientific monographs in one of the cited libraries of Andrejevic foundation.