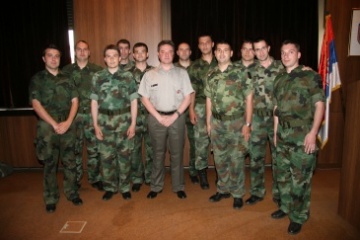 Public class of the Reserve Officers School
22. 05. 2008
Belgrade, May 22 - In the presence of the head of the MMA and its management staff, heads of clinics, institutes and professors, the students of the 93rd class of the Reserve Officers School of the Serbian Armed Forces Medical Services presented their seminar papers on the theme: ''Organization of the AF Medical Services in some foreign countries and experiences of the foreign Medical Services in crisis situations'' Public class took place on May 22, in the MMA Teaching-Scientific Board lecture room.

MMA permanently works on improving education and training it provides following the advanced principles and reforms of the military education system primarily in terms of publicizing its work and controlling the quality of education and training as well. Therefore, this kind of presentation represents an important step towards that aim.

The head of the Military Medical Academy Maj.Gen. Prof. Miodrag Jevtic, M.D., PhD welcomed demonstrated capability and motivation of younger generations, physicians serving their military term, among who many of them would continue to cherish and build the name and reputation of the Military Medical Academy as an eminent medical institution of national value, to present and demonstrate in this way everything they have learned about the organization of the AF Medical Services, experiences of both our and foreign Medical Services in the world. General Jeftic awarded all the students of the Reserve Officers School authors of the seminar papers with 10-day leave.