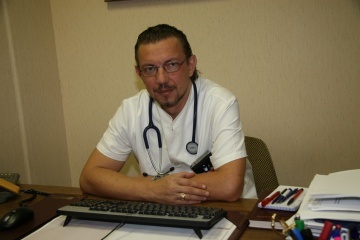 Publishing activity of a successful cardiologist
23. 07. 2008
Belgrade, July 23 - Assistant professor Predrag Pavlović, MD, PhD, from the MMA Cardiology Clinic has published a set of books on medicine, which by their quality and volume represent an extremely significant contribution to affirmation and development of our medicine. In his book titled WPW syndrome, Pavlović gives a review of anatomy of the conduction system of the heart, ways it appears, kinds of WPW syndrome seen as a common disorder of the heart function and the ways they are treated. In addition to this book, Pavlović has also published other important books such as: 'Cardiologic propedevticts', 'ACE inhibitors and diastolic function of the heart',' Prognostic methods of occurrence and relapse of atrial fibrillation', 'Metabolic syndrome- immobility', 'Thrombocytes in cardiology' (the unique book in the world in which, one of its chapters covers histology, pathology, histopathology and antithrombocyte therapy, thus, being of immense importance to cardiologic pathology) and the book 'Cardiovascular diseases and pregnancy'. This book dealing in one of its chapters with the cardiologic pathology that may be seen in pregnancy and the ways of treatment ranging from pharmacological to surgical is also unique in the world literature.
Assistant professor Predrag Pavlović, MD, PhD earned his PhD degree in cardiology at MMA, in 2003, and, in the same year, he was appointed an assistant professor of internal medicine.
He is the author and co-author of more than 150 scientific papers, the author of nine books on cardiology. Pavlović attended numerous national and international congresses of cardiologists presenting there his papers. He also led cardiologic sessions at international cardiology congresses several times. He is a member of the MMA Teaching-Scientific Council as well.