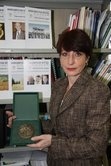 RECOGNITION TO THE MMA INSTITUTE OF SCIENTIFIC INFORMATION
15. 12. 2008
 Belgrade, December 15 - On the occasion of marking the 60th anniversary of the existence and work of the Institute of Medicinal Plant Research. "Dr.Josif Pancic", Belgrade, the MMA Institute of Scientific Information was awarded the special plaque for its contribution to the successful work and development of that Institute. 
By providing "Dr.Josif Pancic" Institute with valuable scientific and medical information, Professional Services of the MMA Scientific Information Institute have greatly contributed to strengthening of the leading position of that institute as only one of that kind in the field of medicinal plants research in both the country and the entire region.
Since Prof. Silva Dobrić, MD, PhD has assumed the head's position of the Scientific Information Institute, this cooperation has been significantly improved particularly due to the fact that, since recent years, Prof. Dobrić has been dealing with the pharmacological investigation of medicinal plants in our area. This recognition given to the MMA Institute of Scientific Information is the evidence that its activity relating to the support of scientific-research work is recognized in the broader scientific community of the Republic of Serbia. The MMA Management highly values the work and achieved results of this Institute.