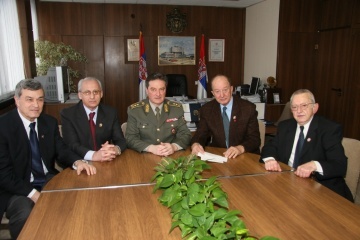 Reception held for former heads of the Military Medical Academy
07. 02. 2010
On the occasion of the approaching MMA's Day and its jubilee – 165 years of tradition of the Serbian Military Medical Services, the MMA head Major General Prof. Miodrag Jevtić, PhD with the Management Board members gave the reception for the former heads of the Military Medical Academy – generals: Prof. Mihajlo Đuknić, PhD, Prof. Jovan Bjelić, PhD, Prof. Aco Jovičić, PhD and Prof. Momčilo Krgović, PhD.

''Today, I am truly proud and honored to extend a warm welcome to our heads, professors, teachers, people who thoroughly devoted themselves to the building of this temple of health. Our sacred duty is to preserve and develop the Military Medical Academy which is a witness of a great history you have bequeathed to us, and which we have to pass on the coming generations'', said general Jevtić.
On that occasion, the MMA former heads were presented with the first issue of the monograph " Heads of the Military Medical Academy" covering biographies of the fathers of the Military Medical Services, Commander of the Central Military Hospital as well as biographies of all the MMA heads since 1949 until the present day.

That was also the way the Military Medical Academy kept the memory of its most responsible members and predecessors who had built their knowledge, experience, creative potentials, courage and patriotism into the foundations of one of the most prestige medical institutions in Serbia and the region, thus contributing to its reputation, strength and grandness.