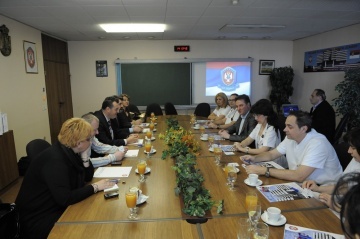 Regional medical cooperation: Delegation of the Sarajevo Clinical Center in the visit to the Military Medical Academy
07. 02. 2010
The head of the Military Medical Academy Major General Prof. Dr. Miodrag Jevtić and the State Secretary for  Military Health Dr. Zoran Vesić with their associates received the delegation of the Sarajevo Clinical Center led by the Director, Prof. Dr. Faris Gavrankapetanović.

'We are all ware of the fact that medicine knows no limits, that the human health is an universal category in the service of which we are, therefore, we are  open for cooperation in the fields of treatment, science an education' said General Jevtić in his welcoming speech.  

Upon the presentation of the MMA's organization of work, its functioning and the most significant results it had achieved in its work, the guests were taken on a short tour through the Academy. They visited Emergency Center, Clinic for Anesthesiology and Intensive Care and Clinic for Emergency and Internal Medicine.

Expressing his gratefulness for the warm reception and detailed presentation of the MMA, the director of the Sarajevo Clinical Center said: 'We are pleased to be here today, to have the opportunity to learn a great deal about this grandiose institution, and I am convinced that we will make our cooperation very successful since we have already recognized many areas of mutual interest and concern'.

Both parties agreed to continue cooperation between their institutions.