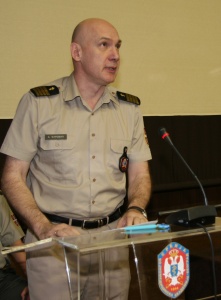 "Rehabilitaion Nurse Between General and Interdisciplinary Approach to Patient Care"
15. 04. 2011
Belgrade, 15 April 2011 – Having rich experience in organisation and participation in large professional conferences, the Physical Medicine and Rehabilitaiton Clinic of MMA (Military Medical Academy) organised and held a course for rehabilitation nurses between general and interdisciplinary approach to patient care at the amphitheatre of MMA. The conference was attended by a large number of nurses of MMA and Belgrade-based healthcare centres.
Besides representatives of MMA Management and the Physical Medicine and Rehabilitation Clinic of MMA, Mr Petar Požun, member of BoD at ISN and president of the Association of Nurses of Ljubljana, Mrs Sima Đurđa, president of the Association of Nurses, Technicians and Midwifes of Slovenia and Mrs Gordana Lokajner, member of the Executive Board also welcomed the participants of the conference. Požun used the opportunity of his working visit to MMA Health Care Department and expressed his intention to attend the conference.
The introductory speech of LtCol Assist. Prof. Dr. Dejan Miljković, Head of the First Department of the Clinic, was followed by presentations of Head of the Clinic Colonel Prof. Dr. Aleksandar Đurović, Head Nurse of the First Department of VMS Bojana Jovanović, physiatrist Marina Kilibarde, Chief Medical Technician of the Clinic Aleksandar Nikolić and Administrator of the Clinic Ivana Vasilj. These presentations are the results of exhausing research in various fields.