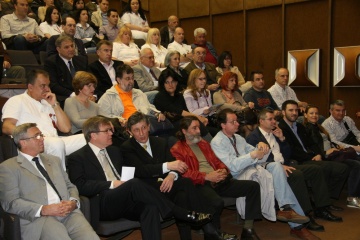 Renowned American implantologists in the visit to the MMA
01. 05. 2009
The world renowned expert in Implantology at the University of Oklahoma, Prof. Dr. Ronald Bulard and professor at the State University of New York, Dr. Ady Palti were in an official visit to the MMA's Clinic for Maxillofacial and Oral Surgery and Implantology and Dental Clinic. During the visit, the guests shared their experiences with our experts and reviewed the possibilities of establishing cooperation in the field of implantology.

Professors Palti i Bulard delivered lectures on Implantation Systems and the results of clinical and experimental researches in tri-dimensional computer assisted navigation in the field of   implantology, and addressed as well problems relating to immediate implants with immediate loading and bone augmentation. More than 500 experts in implantology and dentistry from the Military Medical Academy and other healthcare facilities from all over Serbia attended the lectures.  

Professor Ronald Bulard is a professor of implantology at the University of Oklahoma. Throughout his rich professional career, he performed more than 6000 implant surgeries. He is a member of the International Congress of Oral Implantogists and the American Board of Oral Implantology. He is the owner of the Dental Implant Centers located in Oklahoma and New York. He is the author of numerous professional and scientific papers and publications..

Professor Ady Palti is a clinical professor at the University of New York. He is the founder and president of the International Academy of Implantology and a member of the Board of Directors of the International Congress of Implantogists. He is also a visiting professor at Universities of Boston, Budapest and Bucharest. He is the Editor-in-Chief of the ''Compendium Implantology'' magazine and the author of a great number of professional and scientific papers.