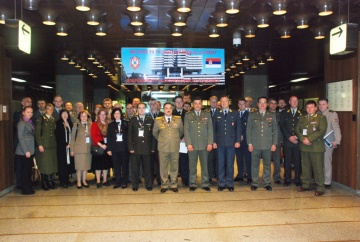 Representatives of military health services of South-East Europe visit MMA
29. 04. 2011
The three-day conference of military health services of the countries of South-East Europe, organised in Belgrade by the Ministry of Defence of the Republic of Serbia, the Ministry of Defence of the Kingdom of Norway and the United States European Command, included also a visit to the Military Medical Academy (MMA).
Considering that the objective of the conference was the evaluation of capacities of medical health services of the participant countries and the possibility of establishment of common medical forces and their engagement in emergencies, the opportunity of the visit of a large number of military experts in the field of medicine from ten countries of South-East Europe to our institution was used for presenting its place and role in the defence system of the Republic of Serbia, its basic activities, capacities and possibilities. During the visit, participants of the conference visited some of the crucial organisational units of MMA.
The next day saw a visit by a USA delegation of four, led by Rear Admiral William Roberts, to MMA Head Colonel Prof. Dr. Marijan Novaković. During a cordial and completely open discussion, both sides expressed wish and willingness, but also need for the establishment of bilateral cooperation between Bethesda - the National Naval Medical Centre in Washington and MMA, as according to Rear Admiral Roberts, we have a lot in common in the domain of military medicine and we are one of the few countries in the world which can boast of military health centres like MMA and Bethesda.
Proposals of potential forms of cooperation in fields of common interest were presented. To mutual satisfaction, both sides agreed that for starters, cooperation could be initiated in the field of education and advanced training for the staff, as it offers great implementation opportunities through education of students of medicine, advanced training of doctors, but also nurses, especially nurse anaesthetists. Referring to the huge experience of our doctors in the treatment of war injuries and wounds and acting in mass disasters, Head of MMA suggested war surgery be a field in which cooperation is further improved. Rear Admiral Roberts talked also about the problems of war veterans in his country. Listing, besides health and family problems, also a range of very severe mental disorders and problems faced by this group in the process of rehabilitation and re-socialisation, he noted it could also be a very important field of joint work and cooperation, considering that the problem is not only one individual, but an entire community, i.e. the society as a whole.
The visit ended with a tour of the Plastic Surgery and Burns Clinic, in hopes and expectations that after the establishment of an official framework, its implementation will start.