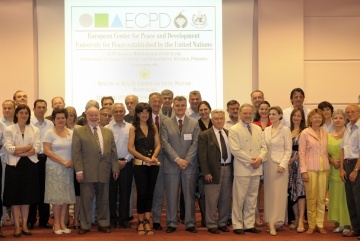 School of Management in the Health Service
04. 07. 2008
Milocer, July 4 - International Summer School of Management in the healthcare facilities organized by the European Center for Peace and Development of the UN University of Peace was held in Miločer, from June 30-July 04, 2008.

Minister of Health, Labor and Public Welfare of Montenegro Miodrag Radunović welcomed the attendees on behalf of the Montenegro Government.  

The main topic of the Summer School was devoted to European monitoring of health risks but actual problems relating to health care of children and youth were addressed as well. University professors and experts of the World Health Organization from Serbia, Macedonia, Greece, Finland, Sweden and Spain as well as other renowned lecturers dealing with the position of citizens and local community within the framework of new systemic laws on health and modalities of contemporary health systems applied in the world    took an active part in the work of the School.

The head of the MMA Morale and Public Relations Department, Research fellow Elizabeta Ristanovic, MD, PhD, introduced the attendees into the MMA organization of work and its position in the Health System of the Republic of Serbia, its importance as the Balkan temple of health, as well as the world-wide recognized results of MMA experts work achieved in the field of treatment, education and scientific-research.