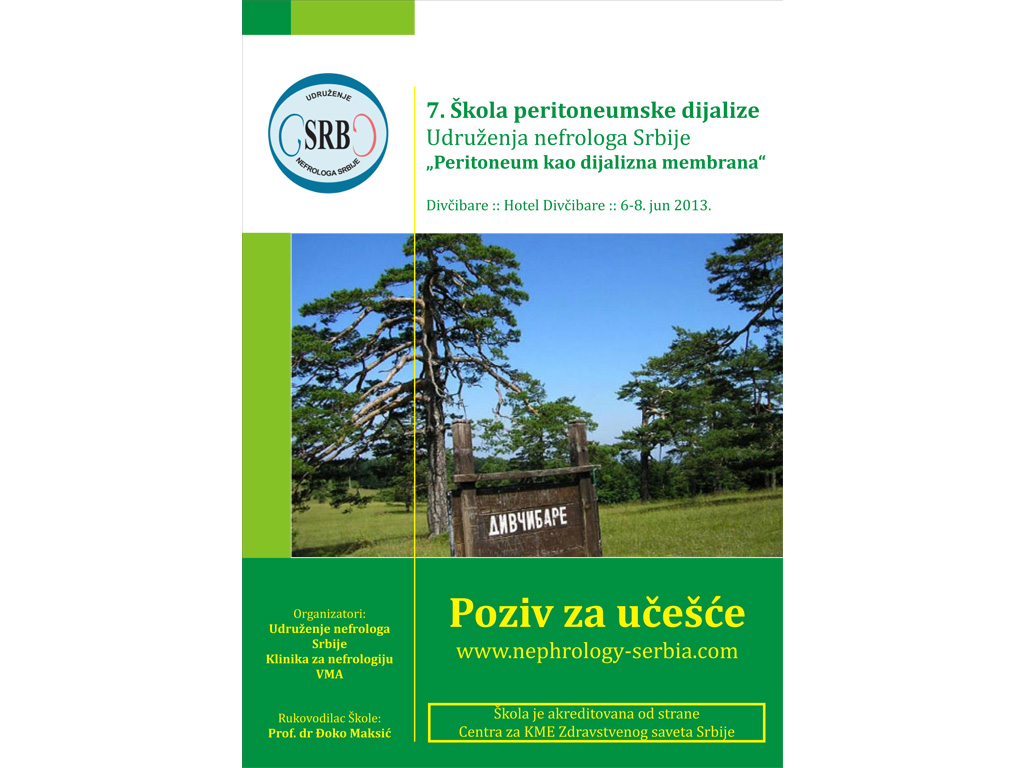 School of Peritoneal Dialysis
08. 06. 2013
VII National School of Peritoneal Dialysis, organized by the Serbian Society of Nephrology and MMA Clinic for Nephrology took place at Divcibare during June 6-8, 2013. Beside the Nephrology Clinic's Deputy Head Colonel Prof. Dr. Dragan Jovanovic, involved in the work of the school, the lecturers from the Military Medical Academy were Head of the MMA Solid Organ Transplantation Center Colonel Dr. Neven Vavic added by the physicians from the MMA Nephrology Clinic Prof. Dr. Djoko Maksic, Dr. Dejan Pilcevic and Dr. Brankica Terzic. The attendees also had the opportunity to hear the lectures delivered by Prof. Dr. Slavica Radjen from the MMA Sector for Preventive Medicine and Asst. Prof. Dr. Sasa Vasilijic from the MMA Institute of Medical Research.
Within the School, gathering 80 physicians and 30 nurses, main topic was "Peritoneum as Dialysis Membrane". The latest theoretical and practical achievements related to the ultra structure and peritoneal membrane as natural semi-permeable dialysis membrane have been presented by 22 eminent national and international lecturers during three lecture sessions and two workshops.
Special emphasis was given to the biocompatible solutions application with ultra low concentrations of degradation glucose products, neutral lactate and physiological bicarbonate solutions, i.e. solutions with alternative osmotic agents aimed at minimizing biocompatible solutions adverse effects damaging the function and structure of peritoneal membrane.
Peritoneal dialysis adequacy problem has been presented in the latest European and Canadian guidelines, especially pointing out normovolemia and weekly urea clearance. Adequate peritoneal dialysis inscription after the insight of peritoneal membrane transport characteristics as well as the application of the solution with icodextrin and automatic peritoneal dialysis provide the realization of minimal dialysis doses, even in the case of anuric patients.
Diabetes becomes more and more evident disease in our country and following the statistics every fourth patients on chronic dialysis suffers from the diabetic nephropathy, and this event was the occasion for further discussion on dialysis characteristics in patients with diabetes type 1 and 2, including also the application of non-glucose solutions for lower local and systemic glycemic load.
The attendees had the possibility to see the list of indications and contraindications for kidney and kidney-pancreas transplantation performed simultaneously as the method of choice in the chronic peritoneal dialysis treatment, along with the transplantation results regarding the surviving of the patients, graft and frequency of particular complications. Presented results demonstrated numerous advantages of peritoneal dialysis and pre-transplantation treatment methods.
Workshops tailored made for physicians and nurses presented modern opinions related to volemic control and prevention of patients' malnutrition, namely the latest software solution for peritoneal membrane transport characteristics calculation and dialysis adequacy.