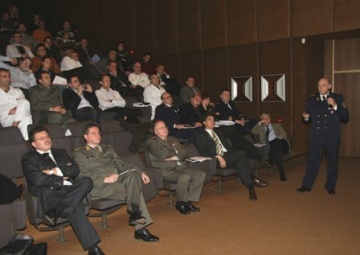 Seminar on War Wounds of the Chest
09. 12. 2009
Belgrade, December 09, 2008. – In the organization of the MMA's Clinic for Chest Surgery and within the framework of the continuous medical education, Seminar on ''War Wounds of the Chest' was held at the Military Medical Academy with participation of the most eminent surgeons from clinical-hospital centers in our country and several tents of physicians from the whole of Serbia. 
The most important and latest experiences gained in medical management of the war wounds of the chest were presented. Those injuries are considered to be of great importance because of the vital organs located in this region. The experiences of our experts gained in the fields of war surgery and medical management of chest injuries were also presented.
Colonel Prof. Dr. Vojkan Stanić, the head of the MMA's Chest Surgery Clinic delivered the introductory lecture pointing out the great significance of this problem for our physicians participating in peacekeeping missions.
The event participants were addressed by the MMA's head, Major General Prof. Dr. Miodrag Jevtić who gave a preliminary lecture on the treatment of the wounded and injured in mass catastrophe situations.