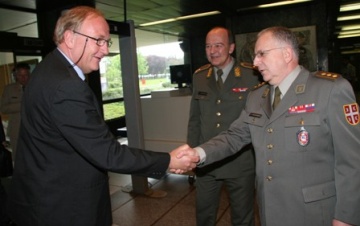 Serbia and Norway: Further Enhancement of Military Medical Cooperation
03. 06. 2010
Belgrade, June  03, 2010. – Secretary General of the Kingdom of Norway Ministry of Defence, Mr. Erik Lund Isaksen with his associated paid a visit to the Military Medical Academy  to review with the most responsible representatives of our institution and Serbian Military Medical Services the results achieved within the military medical cooperation framework, and  to consider modalities of its further advancement.
The guests from Norway were welcomed by the head of the MoD Department of Military Health, Brig. Gen. Assist. Prof. Dr. Veljko Todorović and the MMA's deputy head, Col. Prof. Dr. Nikola Filipović.
Assist. Prof. Dr. Elizabeta Ristanović and Prof. Dr. Silva Dobrić informed the guests about the most important activities of the Military Medical Academy carried out in the previous period, and introduced them into the way scientific research and educational activities are organized in our institution.
During the talks, Mr. Isaksen expressed his satisfaction with everything he had seen and  learned in addition to  his previously build awareness of the Military Medical Academy and our Military Medical Services. ''You have demonstrated exceptional expertise, high professionalism and readines for teamwork through your participation in the UN-led peacekeeping missions as a part of the Norwegian contingent. We still count on you!'', said Isaksen thanking the hosts for a warm and cordial reception.
In the end, the members of the Norwegian delegation were taken to a tour of several MMA's organizational units and Light Field Hospital Training Center.