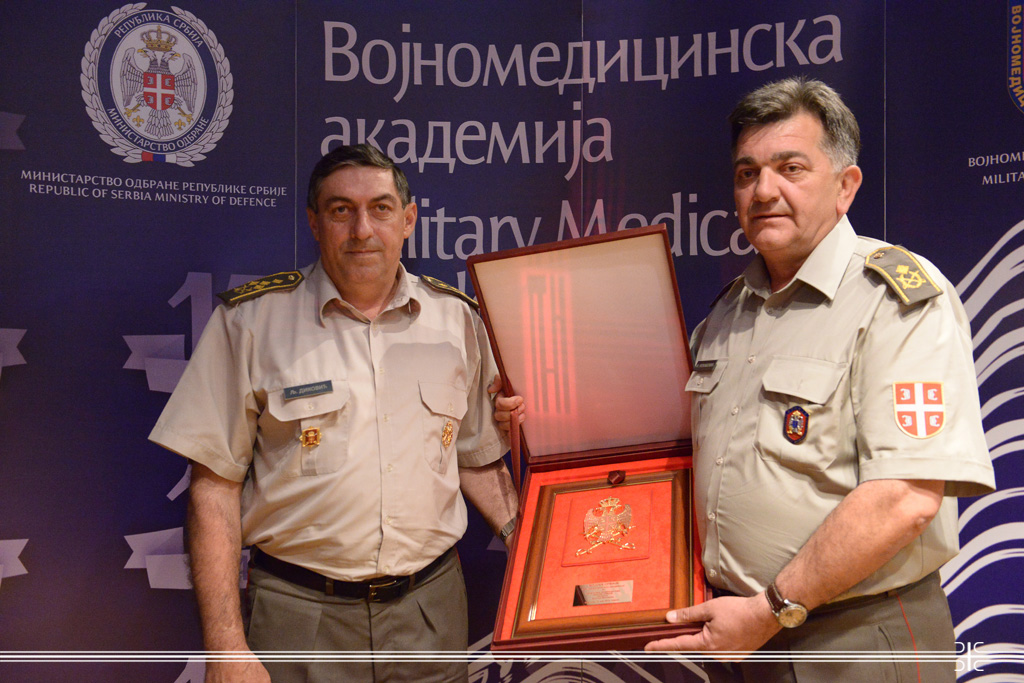 Serbian AF Delivered a Gold Plaque Award to the Military Medical Academy
27. 05. 2014
On the occasion of 170th anniversary of the Military Medical Academy, SAF General Staff Head General Ljubisa Dikovic awarded the biggest military medical institution with a gold plaque. High decoration, which was until now only presented to the President, received the MMA Head Brigadier General Prof. Dr. Marijan Novakovic.
This solemn occasion organized at the MMA was attended by the SAF General Staff and Head of the Military Healthcare Department B.G. Prof. Dr. Zoran Popovic.

General Dikovic expressed his appreciation, honor and respect to all people having merits in the last 170 years of MMA, pointing out the fact that only those institutions who have clear goals could celebrate so many years of work. He approved the initiative of people who 170 years ago established a special type of medical protection for officers and soldiers, which is present up to now.
- Members of the Serbian Armed Forces have a special respect while pronouncing the name of the Military Medical Academy. They come here with a hope of receiving the best medical protection which will help them to prolong life, recover and continue with everyday activities. Assurance to be healed means a lot for stability, motivation and will of people for living and executing different military assignments.
General Staff Head wished all MMA members to continue straightening their capacities, staff, improving competences and follow the latest trends in medicine so they can be applied at the Military Medical Academy.
-You have the possibilities and capacities, thus me and my colleagues are willing to accommodate here the army members of surrounding countries so they can be provided with the best medical care. But, this is mostly up to you. If you can properly choose the path you will follow, I am sure you will succeed. We are very pleased to have this type of institution, General Dikovic said.
Brigadier General Prof. Dr. Marijan Novakovic, the MMA Head, expressed the gratitude and the honor with the awarded plaque, adding that it will be a supplementary impulse and obligation for further development of their well-known activities, i.e. treatment, scientific research and education.
Members of General Staff collegium then took a tour of the MMA Clinic for Emergency Internal Medicine and Center for Hyperbaric Medicine.