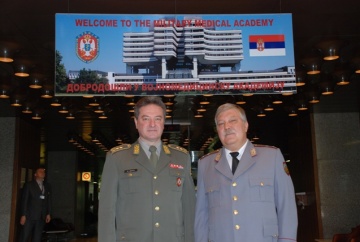 Serbian-Bulgarian Military Medical Cooperation
08. 05. 2009
BELGRADE, May 08, 2009 – The MMA's head, Major General Prof. Dr. Miodrag Jevtić received his Bulgarian counterpart, Major General Prof. Dr. Stojan Tonev  During their broad discussion,  Generals Jevtić and Tonev reviewed  the results of previous and modalities of future activities envisaged within the bilateral military medical cooperation between Serbia and Bulgaria.
General Tonev presented experiences of the Bulgarian Medical Services participating in peacekeeping missions and was interested in the unique experiences of our Military Medical Services gained in the management and treatment of the wounded and sick in mass catastrophe situations.
General Jevtić spoke about the organization of the MMA's work and its results. During the tour around the institution, General Jevtić introduced his guest into the way the Outpatient Diagnostic Center operates, accomplishments of the Same Day Surgery Center, Emergency Center, Clinic for Anesthesiology and Resuscitation and Clinic for Emergency and Internal Medicine
However, General Tonev was in the visit to Belgrade as a member of the high-level delegation of the Bulgarian Ministry of Defence, which is paying a two-day official visit to the Ministry of Defence of Serbia.