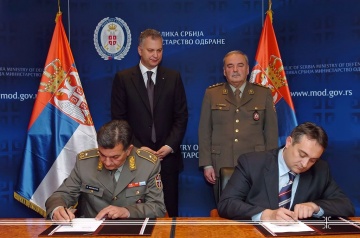 Signing of Cooperation Protocol between the MMA and the Svilajnac Municipality
11. 04. 2012
The Cooperation Protocol between the MMA and the Svilajnac Municipality has been signed today, in the cabinet of the Ministry of Defence.  In the presence of Defense Minister Dragan Sutanovac, the Protocol was signed by the MMA's head Brigadier General Marijan Novakovic on behalf of the Ministry of Defense, and Deputy Mayor Predrag Milanovic on behalf of the Svilajnac Municipality.
After the signing ceremony, the Defence Minister expressed his satisfaction that, in the future, the specialists from the MMA would be able to serve the Svilajnac patient population twice a month. It is all about one of the forms of civil-military cooperation initiated by local authorities of that municipality.

It is already well known that the Ministry of Defence has opened its military hospitals to   civilians, and, today's undertaking represents a unique way we are trying to help the local governments in the areas without hospitals, the Minister said, and reiterated that the Ministry of Defence appreciated the needs of that municipality in the area of which it had recently built a bridge.

-Within civil-military cooperation framework, we have offered the citizens of Serbia our support and assistance wherever needed, and what makes us particularly happy is to be involved, whenever possible, in providing treatment services to the Serbian population particularly in the areas of the country without required level of health care coverage-   the Minister said, adding that our specialists had also visited the villages in the Southern Serbia helping the local population there.
 
- This will now be a continuous action, which, I hope, the other municipalities and cities would follow, the Minister of Defence said.
 
The Deputy Mayor of Svilajnac thanked for the privilege given to that municipality.

- In the very near future, our citizens would be able to receive the best health care possible, and I hope that our cooperative relationship would continue to grow in the coming years to the mutual satisfaction - Milanovic said.