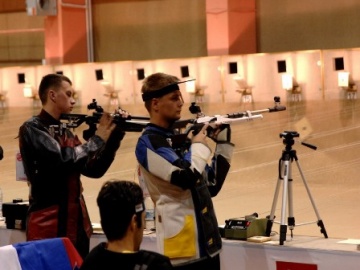 Sports Successes of the MMA's Cadets
28. 10. 2010
Belgrade, October 28, 2010. – The cadet of the MMA's Advanced Medical School, Ilija Rančić won the bronze medal at the First CISM (Conseil international du sport militaire) World Cadet Games held in Ankara, Turkey, from 17th to 24th October, 2010.

Our cadet competed in the 10m standard air rifle shooting competition, and in the final round won the third place in the individual competition, following the representatives of Turkey and Ukraine. In the team competition, Serbian cadets secured the 4th place in the same shooting discipline.
 
Cadets from 26 countries of the world took part in these Games. Serbia was represented by 35 cadets from the Military Medical Academy and Military Academy who competed in military pentathlon, athletics, volleyball, shooting and orientation sports competitions.
Serbian cadets won 2 silver medals in women's shooting and athletics competitions, and 5 bronze medals in women's (4) and men's competitions (1). In the team competitions, our male cadets secured 2 cups in the two shooting sports disciplines (air rifle and air pistol).