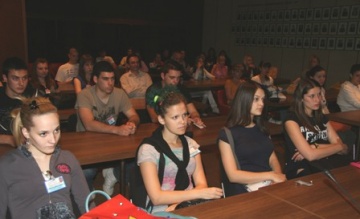 Students of Belgrade and Čačak Nursing Schools in the Visit to MMA
06. 05. 2010
Belgrade, May 06, 2010 - A long and successful cooperation of the Military Medical Academy with nursing schools in our country has been enriched with another new initiative relating to meetings of students and graduates from those schools who are interested in pursuing career in medicine at the MMA's School for Advanced Studies.

After the visit to the MMA recently paid by graduates from Belgrade nursing schools, the MMA has been today a host to the students and professors of Čačak Nursing School. Colonel Prof. Dr. Nikola Filipović and military civilian employee Prof. Dr. Mirjana Životić-Vanović offered them a warm welcome on behalf of the Military Medical Academy.

The students of nursing schools were introduced into the organization of work and capabilities of our institution, and could learn more about advanced study programs and conditions for studying at our School.

''What makes medical studies at the MMA different from the studies at the other medical schools is that our curriculum in addition to standard medical study programs include additional knowledge and skills a military physician and an officer should possess'', said Prof. Dr. Životić-Vanović.
 
The graduate students could elicit their perception about the advantages of studying at the Military Medical Academy: text books free of charge, access to the library and internet, a mentor assigned to each cadet to supervise his/her work and learning process throughout the whole study period, accommodation at the MMA's Boarding School, food and secure career and possibilities for further professional development, advancement and training.