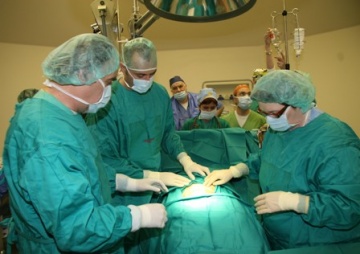 Successful Birth Given by the Kidney Transplant Patient
28. 12. 2009
Belgrade, December 28, 2009. – The expert teams from the Military Medical Academy and the Institute of Gynecology and Obstetrics of the Serbian Clinical Center attended successful birth given by a patient R.J. who underwent kidney transplant surgery in 2004, since when she had been under constant monitoring of the MMA's experts.
As a high-risky birth due to the mentioned circumstances, it was a good reason for the team of eminent MMA's and Serbian Clinical Center's experts to choose Cesarean section as a birth option., which was performed at the Military Medical Academy. Intervention went on without any complications. A healthy baby boy was born, who immediately after the birth was transferred to the Neonatology Institute of the Serbian Clinical Center. The patient R.J. is making a successful recovery at the MMA's Nephrology Clinic.
This event represents undoubtedly another great success of Serbian Medicine and a strong contribution to the Organ Transplant Program as well as clear confirmation that highest world results can be achieved by joint efforts and through successful cooperation with eminent national healthcare facilities.