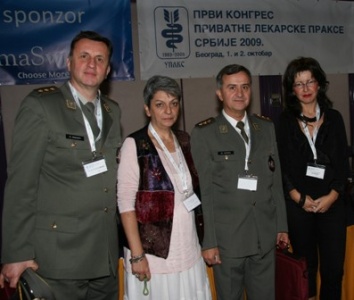 Successful Cooperation between the MMA and Private Medical Practice
02. 10. 2009
Belgrade, October 2, 2009 – The organization, tradition, achievements and vision of the Military Medical Academy, capabilities of its Outpatient Diagnostic Clinic, academic potential and scientific-research projects of the institution were presented at the ''First Serbian Private Medical Practice Congress'' held in Belgrade.
In the capacity of guests, Research Fellow, Dr. Elizabeta Ristanović, Col. Prof. Dr. Đoko Maksić, Prof. Dr. Mirjana Životić-Vanović and Academician, Col. Prof. Dr. Miodrag Čolić delivered lectures within the framework of a special session titled ''MMA-165 years of tradition and experience''.
''The Military Medical Academy is the pride of Serbia'', said the president of the Private Medical Practitioners Association of Serbia, Prof. Dr. Višeslav Hadži-Tanović congratulation our institution on the results it has achieved so far, as well as on the beginning of the academic year for the first generation of medical students at the Military Medical Academy.
Prof. Hadži-Tanović stressed that the private medical practice in Serbia has developed due to the good cooperation established with practitioners engaged within National Health Service.