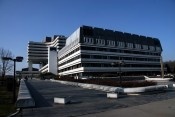 Successful childbirth at the Military Medical Academy
07. 02. 2010
In spite of the fact that the Military Medical Academy is not an Obstetric Clinic, a female patient C.I. (aged 34) from Pančevo successfully delivered her baby this afternoon at the MMA Clinic for Emergency and Clinical Toxicology.

The female patient was taken to the MMA ER by car in a very serious condition caused by psychotropic drugs poisoning. However, it was a case of a psychiatric patient who, at the time of admission to the Clinic, was accompanied by no one and had no medical information on her pregnancy.

The patient gave a birth to her baby boy at 16:55 without any labor pain. The newborn baby was born without a heartbeat; he did not breathe and was cyatonic. After promptly initiated cardiopulmonary resuscitation, the baby restored his normal movements, spontaneous breathing and the heart rate.
 
Kept under physician's control, the baby was transferred to the Institute of Neonatalogy, and his mother C.I. to the emergency surgical care at the Military Medical Academy.