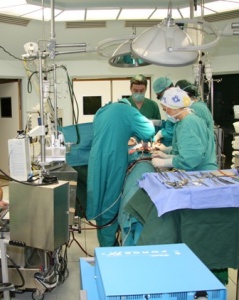 Successfully Performed Living Donor Liver Transplantation
01. 12. 2010
Belgrade, December 01, 2010. – During  the day of November 30 and overnight at the Military Medical Academy, an urgent living donor liver transplant was performed on a vitally threatend 16-year old female patient with fulminant hepatitis due to Wilson's disease. The organ donor was the patient's father. Actions taken within the preoperative period included support and consultations  with the Institute of  Mother and Child Care''Dr Vukan Čupić'', the University Child Clinic in Tiršova St. and the MMA's Ethic Committee

The surgery itself was extremely complex and  required multidisciplinary team approach, meaning that it was performed by  the MMA's team of experts of various profiles. The MMA's management particularly  underlined the enthusiasm and efforts of Col. Prof. Dr. Nebojša Stanković, AF civilian employees  Prof. Dr. Darko Mirković, Prof. Dr. Bela Balint, Prof. Dr. Jasna Jović, Prof. Dr. Zoran Slavković, višeg medical technician  Saška Štampar as well as all the others involved in this case.
 
The immediate postoperative recovery went well as expected, the both organ donor and recipient were doing well

This is the 16th  liver transplant, and the second of two liver donor transplantations successfully performed by the MMA's Transplant team.

The MMA's head Maj.Gen. Prof. Dr. Miodrag  Jevtić particularly  emphasized an  exceptional contribution and great interest of the Biomedicine Department in the improvement of the Organ Transplant program in Serbia.