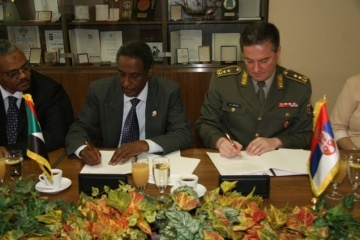 Sudanese military medical delegation in the official visit to the MMA
10. 04. 2009
A high-level military medical delegation of the Sudanese Ministry of Defence   composed of Major General Dr. Mohamed Said Omer and Major General Dr. Mohamed Sir Alkatim Ali was in an official visit to the Military Medical Academy from April 5-9, 2009.
The MMA's head Major General Prof. Dr. Miodrag Jevtić extended a warm welcome to the Sudanese colleagues saying: ''Our Dear colleagues, welcome to the Military Medical Academy, the Balkan and Serbian center of health and the bridge for establishing military medical cooperation. We are ready to continue from the moment when we stopped, that is from the time when you completed you residency at the Academy. We are open for cooperation in all fields of medicine, education and scientific-research work.

The meeting continued in  presenting the guests from Sudan the MMA's capabilities and achieved results, its scientific-research potentials and experiences of its experts gained in the field of  surgical treatment of war wounds, psycho traumatism as well as experiences in the field of preventive medicine, microbiology, emergency and clinical toxicology.  

During the visit, Sudanese generals were taken to a tour of Emergency Center, Clinic for Anesthesiology and Intensive Care, Clinic for Emergency and Internal Medicine, Clinic for Traumatology and Orthopedic Surgery, The Same Day Surgery Center, Institutes of Radiology, Microbiology and Epidemiology, Poison Control Center and Light Field Hospital Training Center.

While visiting the Clinic for Traumatology and Orthopedic Surgery,  Dr Mohamed Said Omar who had specialized at that Clinic twenty years ago, had the opportunity to hear about the latest methods of navigation technology applied in implantation of the artificial hip and knee. At the Microbiology Institute, Dr. Mohamed Ali who had completed his residency in medical microbiology and parasitology, had a chance to learn about molecular methods used for microbiological diagnostic purposes. Dr. Ali expressed his full readiness to share with his colleagues from the Academy his unique experiences relating to tropical medicine, what may be of special importance to us in case of possible participation of our experts in peacekeeping missions.

Sudanese general escorted by the head of the Ministry of Defence Health Department, Brigadier General Veljko Todorović visited the Military Hospital in Niš, where they could raise their awareness of the capabilities and organization of work of that institution.

The visit was ended with signing of the Joint Statement by the heads of MMA delegation and Sudanese Medical Services, Major General Miodrag Jevtić and General Mohamed Said Omer. The Statement included, among other things, conclusions that all the goals set out for that visit were achieved, good preconditions for further development and improvement of cooperation within the institutional and international bilateral military medical cooperation framework were created.

Having in mind the fact that a considerable number of Sudanese experts now occupying leading positions within their Medical Services had completed their education in our institution, the Sudanese Party expressed its particular interest in various forms of education for military medical personnel, as well as in the possibilities for treatment of specific patient categories, sharing of experiences, exchange o experts and medical teams, joint organization and  work on scientific-research projects of common interest. However, necessity to define further course of bilateral cooperation at the level of Ministries of Defence of both countries was particularly stressed.
 
''I am proud and happy to see, almost after twenty years, the Military Medical Academy heading unstoppably forward and representing a leader in the field of medicine. Therefore, I am looking forward to our future cooperation '' wrote General Said in the Book of Impressions at the end of the visit to the Military Medical Academy.