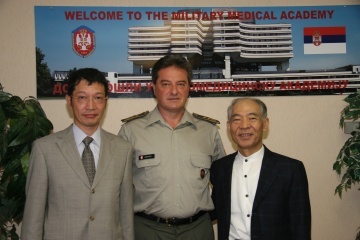 Surgeons from Japan in the visit to the Military Medical Academy
10. 09. 2008
Belgrade, september 10 - Within the framework of intensified international cooperation and exchange of medical experiences, theMilitary Medical Academy received a visit from eminent Japanese surgeons Prof. Hitoshi Shiozaki, PhD, a director of the KinkiUniversity Hospital in Osaka, and Prof. Hironori Shigeoka, PhD from the PL General Hospital in Osaka. The Military medical Academy has already established successful cooperation with those two medical institutions in the fields of surgery and gastroenterology.
Japanese colleagues were addresses by the MMA head Major General Prof. Miodrag Jevtić who offered them a warm welcome to theMilitary Medical Academy stressing also how much all the MMA employees and Serbian people appreciate and recognize a friendly support Japan is providing to Serbia. That support, in addition to other areas, covers the one relating to advanced medical education and training of our physicians in Japanese prestige medical centers. General expressed his hope that such cooperation would continue to develop in the future for the benefit of both sides.
Guests from Japan were introduced into the main activities of theMilitary Medical Academy in the fields of treatment, education and training and scientific-research work with a special stress on its potentials and capabilities for international medical and scientific cooperation.
Thanking for a warm welcome they were given, Japanese surgeons expressed their satisfaction for having the opportunity to visit a medical giant such as the Military Medical Academy and reiterated their readiness to pursue already initiated cooperation with our institution in all the fields of surgery and other branches of medicine as well.