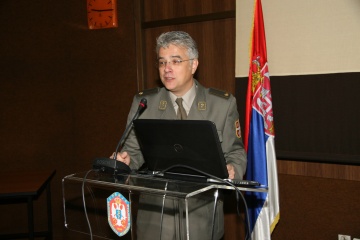 Symposium on Clinical Neurophysiology at the MMA
17. 11. 2011
The International Symposium on Clinical Neurophysiology, held at the Military Medical Academy under the auspice of the Ministry of Health, brought together over 150 national and international experts in distinct fields of medicine. It is the event, which is traditionally organized by the Clinical Neurophysiology Society and the Military Medical Academy.
The experts participating in the Symposium presented the latest in basic mechanisms of some neurological diseases, and shared the experiences gained in diagnosing and controlling some disorders of the central and peripheral nervous systems
The notable lectures on the Standarised Computer-based Organised Reporting of EEG (SCORE) by Sandor Beniczky from Denmark, and on Electrophysiological Investigations in Chilhood Epilepsy Surgery by Martine Fohlen from France, complemented the Regional Electroencelography (EEG) Course held at the same time.
The head of the Neurology and Psychiatry Functional Diagnostic Unit and Ward of the MMA's Outpatient Diagnostic Clinic, Maj. Prof. Dr. Tihomir Ilić, who presided over the Symposium and Prof. Dr. Stevan Petković gave the lecture addressing the Electrophysiological diagnostic criteria for amyotrophic lateral sclerosis.