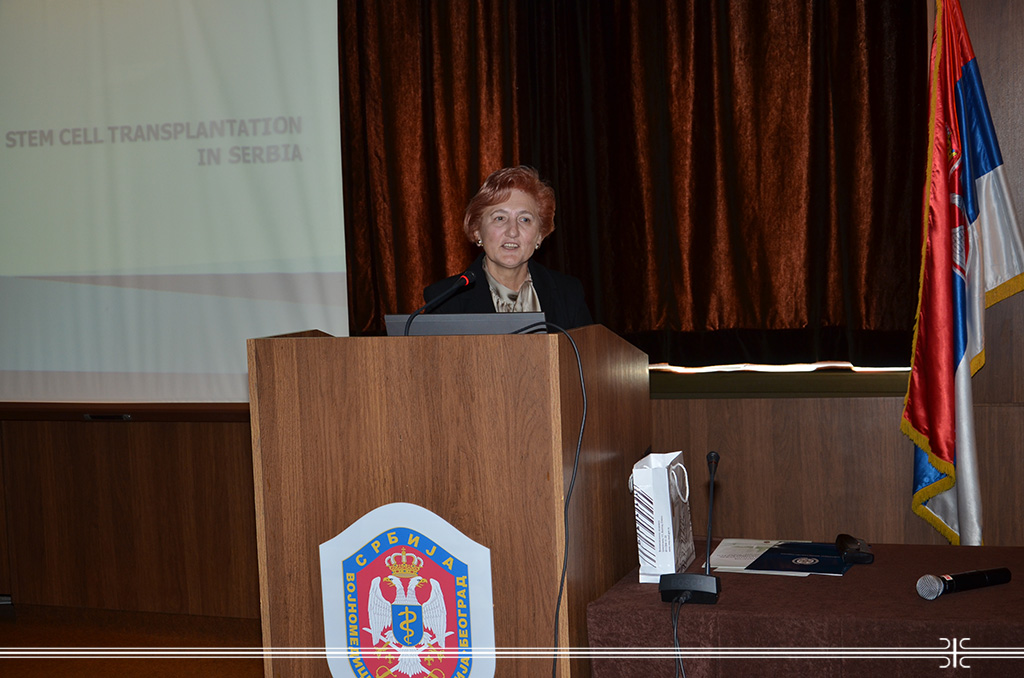 Symposium on Stem Cell Transplantation
01. 11. 2013
Military Medical Academy was the venue of the Symposium dedicated to the hematopoietic stem cell transplantation organized by the MMA Clinic for Hematology.
Opened with the lecture by Prof. Dr. Nicolaus Kröger, Medical Director of the Department of Stem Cell Transplantation at the University Hospital Hamburg who spoke about transplantation treatment of chronic myeloproliferative diseases in the era of modern medications, Symposium continued with the presentation of the Head of the MMA Clinic for Hematology Prof. Dr. Ljiljana Tukic demonstrating Military Medical Academy 30-year results in aplastic anemia treatment using transplantation or immunosuppressive therapy as treatment methods with very high percent of success.
Retrospective analysis of bone marrow graft rejection or "graft-versus-host-disease" in 250 patients was delivered by Prof. Dr. Dragana Stamatovic, the Head of the Bone Marrow Transplantation Department, while Dr. Marija Elez, also coming from the MMA Clinic for Hematology, met the attendees with cytomegalovirus infection as significant transplantation factor, especially in the period after transplantation.
The other transplantation-related topics included the lecture by Dr. Zorana Andric from the Blood Transfusion Institute of Serbia speaking about the donor choice in hematopoietic stem cell transplantation, who was supported by Dr. Olivera Tarabar, Col. Prof. Dr. Slobodan Marjanovic, Dr. Andjelina Zivanovic and Prim. Asst. Prof. Dr. Gordana Ostojic demonstrating their transplantation treatment experiences in the field of Hodgkin's disease, multiple myeloma, light chain disease, as well as in stem cell harvest apheresis.