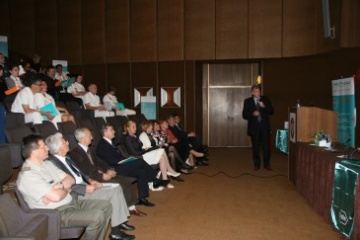 Symposium on rheumatoid arthritis
22. 05. 2008
Belgrade, May 22 - The symposium on rheumatoid arthritis (RA) organized by the Clinic for Rheumatology and the Medical Research Institute was held at the Military Medical Academy, on May 22, 2008. The MMA renowned experts dealing with this medical problem spoke about the importance of the early diagnosis and the latest trends applied in the molecular diagnosis of RA.

The symposium was opened by the head of the Military Medical Academy Maj.Gen. Prof. Miodrag Jevtic, MD, PhD who emphasized that MMA has medical professional who, in this field of medicine, closely follow the latest achievements made in the diagnosis and treatment of RA and who are known for pioneering new treatment methods on the Balkans.
 
Rheumatoid arthritis is a chronic, inflammatory disease that causes long-term disability and reduces considerably the lifetime of a patient. According to our assessments, there are over 30000 people suffering from RA in Serbia, but the disease is still difficult to be identified and effectively treated. The most significant symptoms and signs of this disease include pain, swelling and stiffness of primarily small joints of the hands and feet. The early diagnosis in the initial stage of the disease i.e. within the first several weeks is considered critical for its effective treatment. In the last decade, important progress has been made towards the treatment of rheumatoid arthritis by, in the first place, introduction of so-called biological therapy. Drugs from this group include natural products produced by genetic engineering and affect some of the immune components considerably involved in the occurrence of the disease. Rituksimab is one of the drugs from this group, the use of which was also discussed at the symposium and which has the unique effect on B lymphocyte. Experiences gained in both the world and our country in the course of the last year show that the use of this drug has proved to be efficient in the treatment of the most severe RA cases. The MMA Clinic for Rheumatology has already had some experience of using that drug and continues to apply it in the treatment of the RA patients by the most advanced methods.