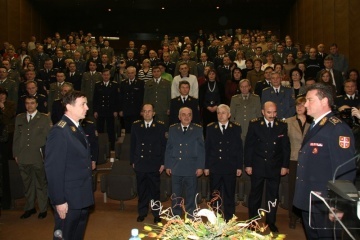 The Armed Forces Day marked at the MMA
15. 02. 2009
 Belgrade, Febraury 15 - The Military Medical Academy officially marked 15th February, the Statehood and the Armed Forces Day of the Republic of Serbia. 

Congratulating the MMA members on that holiday, the MMA head Major General Prof.
Miodrag Jevtić, PhD emphasized the importance of the tradition and heroic past that inspired the present and would motivate the upcoming generations.

'The real world of the Serbian Armed Forces is characterized by its consolidation, restructuring, building stronger confidence of its people and its readiness as well to face and cope with all the challenges of today's world and the standards of modern states. All of us who work at the Military Medical Academy, considered a giant of Serbian medicine and science and the Balkans temple of health, are also a part of our Armed Forces', said General Jevtić at the official MMA Military Session held to mark that holiday.

'Incorporation of the Military Medical Academy into the national network of health care facilities along with simultaneous and intensified technological renovation is of crucial and historical importance for the Academy', said General Jevtić. He also mentioned that installing of the new state-of –the-art MRI machine was underway and the tender for furnishing the most advanced AngioBlock and Barochamber as well as procurement of other technological apparatuses had been closed.

In addition, activities for accreditation of the Military Medical Academy and the Defence University School of Medicine were being carried out very well.

'In spite of unfair behavior of some of our colleagues outside the Academy, I do believe that, in the near future, the Military Medical Academy would have a lot to offer to students of the Schools of Medicine, Dentistry and Pharmacy that they can learn', stressed General Jevtić. He added that, by the opinion of the Minister of Defence of the Republic of Serbia, the Academy had improved its organization of work in all its segments. He then mentioned that next important activities the Academy planed to undertake included the introduction of telemedicine and final renovation of the MMA parking area.

The head of the Morale and Public Relations Department Dr Elizabeta Ristanović spoke about the symbolic meaning of Sretenje celebrated as the Statehood and the Armed Forces Day and reiterated how proud we were for being able to prove through our everyday work that we had not failed our teachers and generations who would be coming after us.

'The position of the Military Medical Academy within the Defence System of our country and on the medical and scientific map of Serbia, Europe and the world is very recognizable and defined by constant improvement of medical profession, enhanced international cooperation and relationships, improvement of medical personnel and investment into knowledge', said Dr Ristanović.

At the end of that official meeting, the names of MMA members promoted, awarded and commended on the SAF Day were read.

Artistic entertainers and performers Predrag Cune Gojković, Oliver Njego i Nikola Rackov took part in the cultural program specially created for that occasion.