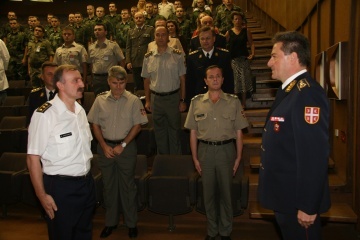 The Beginning of Schooling of the Reserve Officers School new Class
08. 09. 2008
 Belgrade, September 8 - The beginning of schooling of the 94th Class of the Medical Services Reserve Officers School and the 92nd Class of the Veterinary Services Reserve Officers School was officially marked in the amphitheater of the Military Medical Academy.
The MMA head Major General Prof. Miodrag Jevtic, MD, PhD addressed the students, among whom there were 22 physicians, 2 dentists, 2 pharmacists and 5 veterinaries. He offered them a warm welcome to the Military Medical Academy - the house of health and science where they would be given the opportunity to build their awareness on the latest achievements of medical profession and science as well as specifics of the military medicine and acquire general military knowledge. 
Having in mind glorious and rich tradition of the Serbian Military Medical Services and the fact that  the military medicine is a strategic support to the Armed Forces of Serbia on its way towards international integrations,  General Jevtic said that education, training and advancement of the Medical Services active and reserve officer corps would represent a great challenge to the MMA teaching staff.   
The students of this School had a chance to meet their teachers at the first public class and to be introduced into the organization and capabilities of the Military Medical Academy as well.