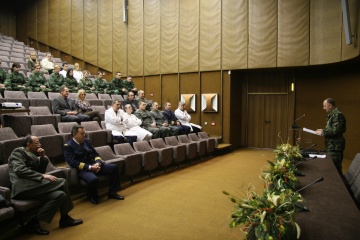 The Beginning of the Training Program for Medical Services Officer Candidates
07. 02. 2012
The Beginning of the Training program for the 3rd Class of Medical Services Officer Candidates scheduled to take place in the Medical Services Training Center of the MMA's Education and Scientific Research Sector, from January 30 to April 30, 2012, was officially marked at the Military Medical Academy.
There are 18 candidates who started their training. They are doctors of medicine admitted through the Open Call annouced by the Ministry of Defence with the aim of meeting the needs of the Serbian Armed Forces and the Ministry of Defence.
It is a 4-month training program, and all those who successfuly complete it would be promoted into the rank of an active-duty Medical Services Corps Officer and assigned to the units and installations of the Armed Forces and the Ministry of Defence where their services are required.