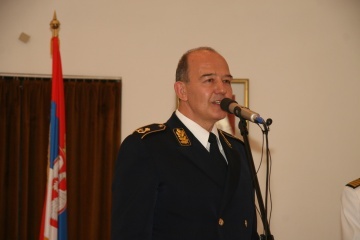 The Day of the Serbian Armed Forces Medical Services officially celebrated
30. 07. 2008
Belgrade, July 30 - The Day of the Serbian Armed Forces Medical Services was officially celebrated in the Serbian Armed Forces Guard Club on Topčider. The celebration was attended by the Defence Minister of the Republic of Serbia Dragan Šutanovac and his associates, Minister of Health Prof. Tomica MIlosavljevic, MD, PhD, Serbian Armed Forces Chief of General Staff LTG Zdravko Ponoš, accredited representatives of the Diplomatic Corps, head of the Military Medical Academy Maj.Gen. Prof. Miodrag Jevtić, MD, PhD, professors and heads of MMA organizational units as well as chief medical technicians of MMA clinics and institutes, heads of Niš, Novi Sad and Belgrade medical centers, university professors and veterans of the Military Medical Services.

This day commemorates July 30 of 1839, when, by the Constitution of the Principality of Serbia and the Act on establishment of the standing military forces, doctor Emerich Lindemeier was appointed to the position of the first GS physician - said the head of the Health Department, MoD Material Resources Sector, Brig.Gen. Assist.Prof. Veljko Todorović..
MD, PhD.

Today, the Medical Services are functionally well organized and operate at three health care levels – primary (in the framework of medical units of the Armed Forces of Serbia), secondary (within the Nis military hospital, Belgrade Center of the Military Medical Institutions and Novi Sad Military Medical Center) and the tertiary (at MMA).