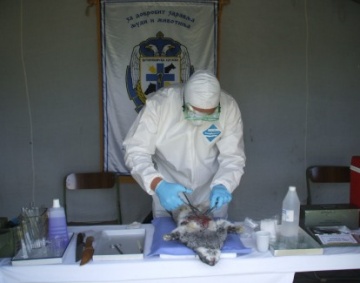 The Day of the Serbian Armed Forces Veterinary Service
30. 10. 2009
Belgrade, October 30, 2009 – The members of the Veterinary Training Center's staff and veterinarians working at the Military Medical Academy and within the Defense System marked the significant jubilee – 158 years of the tradition of the Military Veterinary Service. 
Within the framework of the Celebration Program, the Education Seminar on Surgical Treatment of the War Wound in the Veterinary Medicine organized by the MMA's Medical Research Institute, Center for Continuing Education and the Veterinary Defense Association was held at the Military Medical Academy. The Seminar was attended by the members of the Military Veterinary Service, students of the 94th Class of the Veterinary Service Reserve Officers School as well as a large number of veterinarians from other institutions in the Republic, representatives from the Belgrade School of the Veterinary Medicine and Serbian Veterinary Chamber.
In addition to the Seminar, the Program included 4-day Course for professional officers of the Veterinary Service on health protection of animals with the aim of introducing the attendees into new theoretical and practical insights in this field.
However, 31st October is celebrated as the Veterinary Service Day to commemorate the same day of the year 1851, when the Prince Alexander Karadjordjevic commissioned the first doctor of the Veterinary Medicine Jovan Teodorović into the military service.
The representatives of the MMA Management and Ministry of Defense Health Department congratulated the members of the Veterinary Service on their Day.