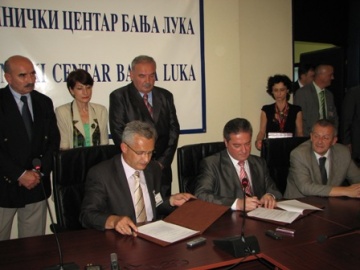 The First Kidney Transplant Surgery Performed in the Republic of Srpska
21. 06. 2010
Banja Luka, 20. june - Within the framework of previously agreed cooperation and  with the consent of the Ministry of Defence, the MMA's expert team lead by its head Major General, Prof. Dr. Miodrag Jevtić, visited Banja Luka on June 18-19, 2010.  A warm and cordial welcome and reception given to the MMA's delegation was  attended by the Republic of Srpska high officials – Minister of Health, Prof. Dr. Ranko Škrbić, director of the Health Insurance Fund, Mr. Goran Kljajčin and   general manager of the Banja Luka Clinical Center, Prof. Dr. Mirko Stanetić.

In the course of the visit, a Protocol on Scientific-Technical Cooperation between MMA and CC Banja Luka was signed. That cooperation was to cover various forms of education and training of Banja Luka Clinical Center's healthcare workers in our institution, knowledge transfer process and direct involvement of our experts in medical  activities of the Banja Luka Clinical Center such as transplant programs, joint clinical studies, etc.
 
On June 18, 2010, the MMA's transplant team lead by the Colonel, Prof. Dr. Isidor Mišović assisted by the colleagues from the CC Banja Luka performed the first kidney  transplant surgery in the Republic of Srpska.  The surgery was successfuly done, everything  went well and a postoperative recovery of a 42-year-old  patient was   without any complications.
 
Proceeding from and applying such an approach, the Military Medical Academy is sustaining in its endeavors to advance medical profession and provide its support and assistance to all centers who express their mutuall interest. Following the Niš Clinical Center, the MMA has intensively been working on making CCBanja Luka capable of independent implementation of the kidney transplant program, and providing direct support to the ''Prolong the Life'' national action as well.