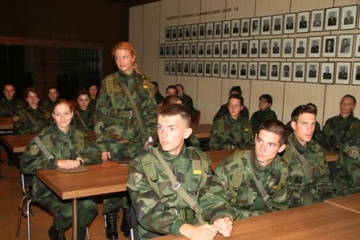 The First Lesson for the Second Class of the MMA's Cadets
04. 10. 2010
Belgrade, October 04, 2010. – Undergraduate studies at the MMA's Medical School for the Second Class of cadets started with an official lesson devoted to the tradition, organization, achievements and the vision of the Military Medical Academy.
A warm welcome to the MMA's Second Class-cadets was extended by the deputy head Col. Prof. Dr. Nikola Filipović and acting dean of the MMA's Advanced Medical School, an academician Col. Prof. Dr. Miodrag Čolić.

'There is a long way you should go towards the human mission you have devoted yourselves to. The goals of that path and mission are to make you top doctors and better officers in the service of health and the country. On that noble mission, you would be fully supported by the MMA's Management, teachers and members of this institution which is rightly called the temple of health and science. Therefore, feel proud for being members of the Military medical Academy and the Republic of Serbia Defense Ministry', said Prof. Dr. Nikola Filipović on that occasion.
 
In the course of the official celebration, 30 cadets were given the possibility to be introduced to their mentors. Since the teaching  at the MMA's School of Advanced Medical Studies is organized according to the college-based mentoring model, each cadet would have his/her mentor chosen from the MMA's teaching corps whose responsibilities would be to monitor and supervise the cadets during their studies, to closely follow their creative, professional and scientific development and help them as well find solutions to their problems and challenges they are going to encounter in the course of their study periods.

Today, the new school year for 20 second-year students of the MMA Medical School's First Class has also begun. They started their studies in the 2009/2010 academic year.
 
During their entire study period, the MMA's cadets are considered to be the members of the Ministry of Defense.  The accommodations and textbooks are provided to them, as well as secured paid work within the Defense System upon completion of their undergraduate studies, and the opportunity to further pursue their guided careers.