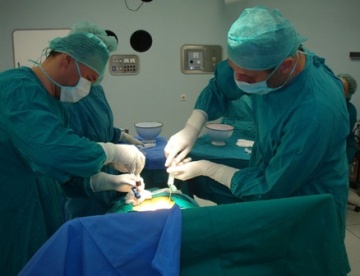 The First Unrelated Donor Hematopoietic Stem Cell Transplantation Performed in Serbia
10. 11. 2009
Belgrade, November 10,2009 - Last week, joint efforts of the experts from the Military Medical Academy, the Institute for Mother and Child Health "Dr Vukan Čupić" and the National Blood Transfusion Institute resulted in the successfully performed first unrelated donor allogeneic hematopoietic stem cell transplantation. The donor was registered in the Unrelated Bone Marrow Donor Register of the Republic of Serbia. The stem cells were collected and filtered at the Military Medical Academy to remove bone fragments, fatty particles as well as cell aggregates. The yield of the cells with nucleus, stem cells being one of them, was rather high. Prepared and kept under strict quality control all the time, the stem cells were transported from the National Blood Transfusion Institute to the Institute for Mother and Child Health, where they were transplanted into the 2-month old baby with a genetic weakness of the immunity system at birth. This procedure allowed the treatment of this disorder, thus saving the life of the child. All the conditions and regulations of the International Potential Stem Cell Donor Registry requiring the collection of bone marrow and transplantation of stem cells to be performed separately in different facilities, were met in that way.
The National Volunteer Bone Marrow Donor Registry is set up at the National Blood Transfusion Institute.
The MMA's experts involved in this case were Prof. Dr. Bela Balint, Assist. Prof. Dr. Dragana Stamatović and Col. Prof. Dr. Slobodan Marjanović with their expert team members.
Once again, this case confirmed that multidisciplinary and teamwork is the imperative for the success in contemporary medicine, and the Military Medical Academy proved one more time to be a reliable supporter within the Public Health System of the Republic of Serbia