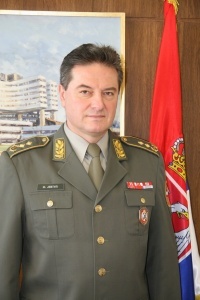 The MMA Head in the visit to Pčinj District
07. 11. 2008
Belgrade, November 7 - The MMA head Major General Prof. Miodrag Jevtić, MD, PhD with his associates made a visit to the Pčinj District within the framework of the final preparations for the field medical exercises 'Save path 08' scheduled to take place in the Bujanovac spa area from 16th -20th of November this year. ''Our mission is to show through this field exercise that the Military Medical Academy belongs to all the citizens of the Republic of Serbia who need its medical assistance no matter how far away they are from Belgrade. The Armed Forces is an integral part of the society, and the forthcoming exercise is, therefore, the opportunity to demonstrate, once again, how civil-military cooperation is smoothly and synchronically carried out in all its segments for the benefit of both the country and its people'' said General Jevtić expressing his appreciation to local authorities in Vranje, Bujanovac and the whole Pčinj District for their excellent cooperation.
This medical exercise having the international character due to participation of Medical Services personnel from the Republic of Macedonia, the Kingdom of Norway and the Republic of Serbia will test the field capability of Military Medical Services personnel to treat the wounded and sick in mass casualty situations.
Within the framework of this exercise, in the period of 11th-15th November, the MMA physician specialists in close collaboration with their colleagues from the Army Fourth Brigade members will render their medical services to the local population in so called 'field hospital' set up in Bujanovac spa. At the same time, renowned professors from the Military Medical Academy will visit the healthcare facility in Vranje where two simultaneous activities are planned to take place: lectures on anesthesiology, clinical pharmacology and toxicology issues given by those professors and hematological, radiological, neurosurgical and ENT examinations in the patients of this medical center performed by MMA specialists.