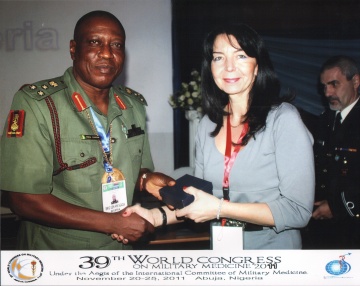 The MMA at the 39th World Congress on Military Medicine
02. 12. 2011
The 39th World Congress on Military Medicine, organized by the International Committee of Military Medicine (ICMM) was held in Abuja, Nigeria, on 20-25 November, 2011. The Military Medical Academy delegation was composed of Prof. Dr. Slavica Vučinić, the head of the MMA's National Poison Control Center and Maj. Dr. Nemanja Borovčanin from the MMA's Blood Transfusion Institute. The main topic of the Congress was '' Military Medicine and Mass Casualty Management''.
Current challenges in the spheres of Military Medical Services with a special focus on the establishing numerous humanitarian medical missions, cooperative relationships with international organizations such as World Health Organization (WHO), International Committee of the Red Cross (ICRC), Joint United Nations Program on HIV/AIDS (UNAIDS), World Society for Animal Protection, were thoroughly considered and discussed.
During the Congress and the ICMM General Assembly Session, the work of the ICMM Reference Center of Education was presented. It was established upon the agreement reached at the General Assembly meeting in Kaula Lumpur, in 2009, and with the support of the Swiss financial resources, sufficient to ensure that the Center is operational until 2013. However, the Center is organized within the military structure of the
The ICMM was established in 1921 and is made up of Military Medical Services of 104 member states, one of which is the Republic of Serbia. Its activities are carried out through annual meetings of the Chiefs of the Military Medical Services, congresses on Military Medicine held bi-annually, and the work of regional organizations in different medical fields.
As far as the Military Medicine is concerned, the ICMM is recognized as one of the most significant organizations at the world level. The Military Medical Academy is actively involved in the work of this organization.