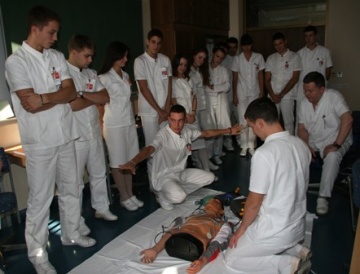 The MMA's School for Advanced Education: European Standards of Education
09. 04. 2010
Belgrade, April 09, 2010 - The Military Medical Academy hosted a two-day Course on ''Innovations in the teaching process and new teaching methods'' for teachers and MMA's fellow. There were 25 teachers and fellow-workers from the Academy attending the Course. It was run by holders of the certificates of Heidelberg University Education Center for dissemination of innovations in teaching-education processes in higher education schools within the international TEMPUS program framework
The Course was taught by a combination of plenary lectures and small workshops. The most important part of the Course was dedicated to the computer-assisted learning through simulation of various diagnostic procedures and treatment methods for a number of diseases. New models of student practical training and contemporary approach to testing and evaluating students' knowledge were presented as well. The teachers were given the opportunity to deliver, in front of the cameras and colleagues, lectures that were followed by critical analyses of all the aspects of a given lecture.
In addition to new information and knowledge they acquired, the Course attendee were awarded the certificates that would help them a great deal in the quality control of teaching process at the MMA's School for Advanced Studies.