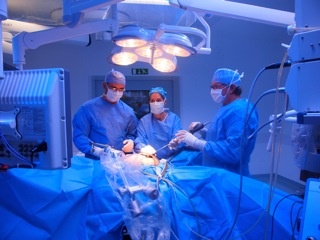 The MMA's Chest Surgeons at Professional Advanced Training in Slovenia
02. 11. 2011
The member of the MMA's Clinic for Chest Surgery, Maj.Dr Nebojša Marić underwent professional advanced training in minimally invasive thoracic surgery and the treatment of gastroesophageal reflux disease, in the "KOPA" hospital in Golnik, Republic of Slovenia, from September 05 to October 31, 2011. The mentor of the MMA's doctor was a renowned Slovenian thoracic surgeon Dr. Marko Bitenc.
During this successfully completed educational course which introduced the application of state-of-the-art technologies and equipment – video-assisted thoracic surgery, Dr. Marić participated as an assistant in daily surgical schedules which included 3 to 6 surgeries a day. That gave him the opportunity of adopting new surgical techniques and principles of the treatment of this disease.
Therapeutic laparoscopy for gastroesophageal reflux disease used by Dr. Bitenc is a unique method in the world, and represents a modification of fundoplication for stomach by "Toupetu". Since no one in Serbia has performed this procedure that way, the Military Medical Academy, supported by the Slovenian side, has the possibility of introducing this method into its clinical practice through such professional advanced training programs for its medical personnel.