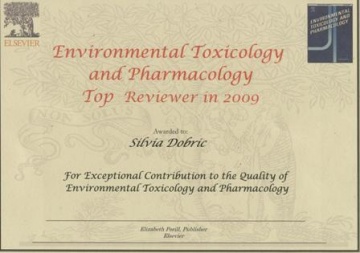 The MMA's Experts as Recognized Reviewers of International Journals
08. 02. 2010
Belgrade, February 08, 2010. – The head of the MMA's Scientific Information Institute, a civilian employee Prof. Dr. Silva Dobrić won the Top Reviewer prize for 2009 awarded by the renowned international scientific magazine Environmental Toxicology and Pharmacology. This year, Prof. Dobric was awarded this-year recognition from the world-leading publishing house Elsevier , the publisher of this magazine.
In the accompanying letter forwarded to the Military Medical Academy address, the Editorial Board members and the publisher ''Elsevier'' expressed their appreciation and thanks to Prof. Dr. Dobrić for her precious support and contribution as a reviewer of the Environmental Toxicology and Pharmacology magazine, with the wish to continue their fruitful cooperation in the forthcoming period.
Prof. Dr. Dobrić is the editor-in-chief of the Military Medical Review. A magazine of the Serbian Armed Forces physicians and pharmacists, which was, during her tour of duty as the editor-in-chief, included into the Science Citation Index System, and, thus, joined the family of the most influential scientific magazines in the world. The above mentioned publisher Elsevier, dealing as well with publishing secondary publications, which follow primary science periodicals has recently required the approval to index the content of the Military Medical Review journal in its electronic scientific bibliographic databases SCOPUS and EMBASE. Such a request is one more indicator of recognizing the Military Medical Review as a journal having respectable influence in the field it covers.