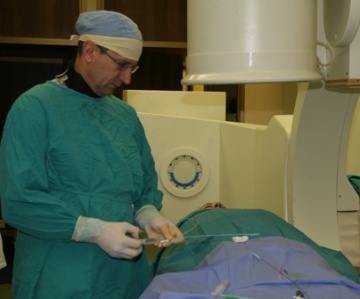 The MMA's Neuroradiologists Successful in Application of Intracranial Stents
10. 11. 2009
Belgrade, November 10, 2009 – Having performed the embolization of parietal arteriovenous (AV) malformation on a 6-year old patient, the MMA's experts adopted as well the Treatment Protocol for children with surgically inoperable diseases and by that complemented the whole endovascular treatment of vascular diseases in neuroradiology. 
In its routine clinical practice, the MMA's Institute of Radiology successfully performs a large number of neuroradiological procedures for the treatment of the brain and spinal arteriovenous (AV) malformations including stent-assisted embolization of intracranial aneurysm.
In our country, intracranial stents was applied for the first time at the Military Medical Academy during 2009 for the treatment of the patient with intracranial aneurysm.
In 2006, the Military Medical Academy successfully performed the first stenting procedures in patients with basilal artery stenosis, arteriovenous malformations of the brain and spinal cord.
In the course of 2009, the MMA's expert team led by LtCol. Dr. Slobodan Ćulafić have treated 86 surgically inoperable patients in Serbia and surrounding countries by using this method.
All the results the MMA's experts have achieved in this field so far have been presented at several important national and international events. A renowned neurosurgeon, Prof. Mauricio Resta from Italy has recently paid a visit to our institution which was ended with his willingness to establish a cooperation with us in this field.