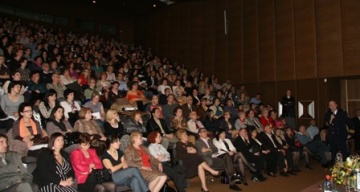 The Meeting of the Serbian Physiatrists
09. 04. 2010
Belgrade, April 09, 2010 – The Military Medical Academy was the venue of the meeting of the Serbian Medical Society's Section for Physical Medicine and Rehabilitation held in the presence of around 400 physiatrists and other healthcare professionals from our country.
The organizer of the Curse was the MMA's Clinic for Physical Medicine and Rehabilitation, and the lectures were delivered by the experts of our institution: Col. Prof. Dr. Aleksandar Đurović, LtCol. Srđan Starčević, MS, Major Dejan Ilić, MD, and a civilian employee Aleksandra Vukomanović, MS.
The lecture topics were closely connected to quality control of physiatric services, application possibilities of osteodensitometry in detecting and preventing periprosthetic bone resorption following the cementless total hip arthroplasty, functional recovery after surgically treated hip fracture in patients over the age of 80, and effects of short-term preoperative education and physical therapy on early functional recovery of patients undergoing hip arthroplasty.