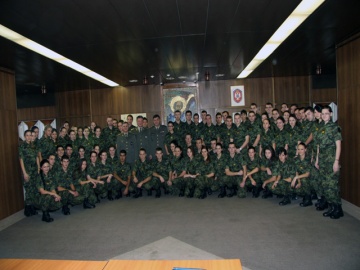 The Rector of the Defense University in the Visit to MMA
10. 11. 2011
At the invitation of the head of the Military Medical Academy, Col. Prof. Dr. Marijan Novaković and the dean of the MMA's Medical School, Col. Prof. Dr Miodrag Čolić, the rector of the Defense University, Maj.Gen. Prof. Dr. Miodrag Jevtić paid an official visit to the Military Medical Academy.
During his visit, Prof. Jevtić delivered a preliminary lecture to the students-cadets of all three classes of the MMA's School of Medicine, and briefed them about all details related to the constitution of the Defense University, constitutional solutions, the vision of future development of higher education system as well as the scientific-research activity within the Defence System framework.
Under the motto ''Yesterday and Tomorrow'', and in the presence of the leading figures of this higher-education institution, the rector of the University pointed out good results achieved so far, and presented the expectations of the Defense Ministry after establishing this School, that is to prospectively secure and train high quality personnel for meeting the needs of the military health system of our country. That would ensure that, within the future European integration processes, we could gain greater authority in that crucial social sphere. He also clearly said to the students-cadets of the MMA's Medical School that the intentions of the Ministry of Defense and the state of Serbia were to purposely invest into their training based on the models of similar eminent universities throughout the world, ensure them guided and perspective career, and give priority to the best among them.
''I expect you to always be aware that you are a part of an elite health care institution of our country, that, from the very beginning you have been assigned the best professors to be your mentors, that everything you need to perceive the possibilities of modern medicine is available to you, that I can trust you and your firm determination, but expect you to be worthy successors of your teachers, and even become better then they were''.
Prof. Jevtić introduced, through his lecture, all the present into a quite correct ranking of our University within Serbian University Conference (KONUS), the Bologna Process it implements, and intensified efforts towards enabling increased mobility and flexibility for our professors and students within the academic community of both our country and the region.